octonauts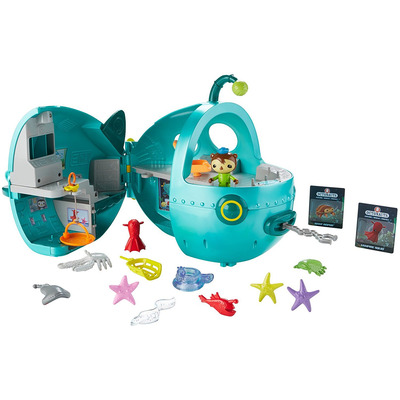 Octonauts Midnight Zone Gup-A Playset
2-in-1 fun! It's a playset... it's a vehicle…it's the Biggest Gup-A ever! Perfect for all your Octo-Cadet's adventures. the Gup-A is a rolling vehicle that opens to reveal a full playset packed with fun features and over 15 play pieces! The Gup-A stands over 30 cm (12 in) and comes with 10 Midnight Zone creatures to rescue. a transport tank. and a creature report monitor just like the Octonauts use on the show! Kids can slide one of the double-sided creature cards into the screen and pretend to be just like crew. discovering amazing new sea creatures! The Gup-A also comes with all the tools needed for a mission including a rescue net. a transport basket. and an Octo-Grabber that can be placed in the front of the Gup. For added fun. the vehicle's antenna and starfish will glow in the dark! There's even a secret stowaway compartment kids can check to make sure there aren't any lost or hiding creatures inside! The Gup-A comes with Shillington. 10 creatures. 3 tools. and 2 double-sided creature cards.
Supplied by Duncans Toys (Opens in new tab/window)
8pcs The Octonauts Action Figure Set Captain Barnacles Cake Topper Dolls Gift
8pcs set The Octonauts Action Figures Toys Captain Barnacles Peso Kids Gifts Condition: New Size: Approx 58CM/2-3 inches tall Material: Plastic Main Role: Captain Barnacles, Kwazii, Peso, Shellington, Dashi, Tweak Color: As shown in the ph...
Supplied by Bonanza (Global) (Opens in new tab/window)