Easter Present ideas for Boys and Girls, Men and Women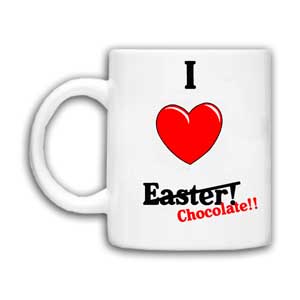 I Heart Easter (Chocolate) Personalised Mug
One of our Popular range of I Heart Mugs - I Heart Easter (Chocolate) Personalised Mug.
Gift wrap service Free postage (over £30.00)
Supplied by The Gift Experience (Opens in new tab/window)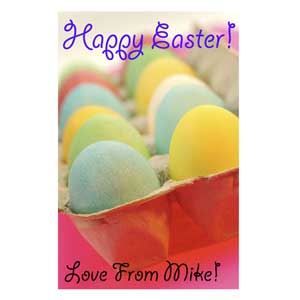 Personalised Easter Message On A Jigsaw
This makes an unusual way to send someone a special message at Easter..
Gift wrap service Free postage (over £30.00)
Supplied by The Gift Experience (Opens in new tab/window)
Motoring Wit Book
The Motoring Wit has some of the funniest quips to amuse you on those long journeys when the traffic becomes stationary on the motorwaysRemember there are two types of pedestrians the quick and the deadQuotes from comedians and presenters that have made you laugh continue to do so
Supplied by BoysStuff (Opens in new tab/window)
Personalised Chocolate Bar - Easter Eggs
A festive alternative to an Easter egg, this delectable bar of milky chocolate will be sure to satisfy your little Easter bunnies. Wrapped up in a colourful label boasting fresh green grass and colourful eggs, you can personalise each painted egg with a letter to spell out the name of your recipient. Easy to pop in the post box, it would make the perfect Easter gift for friends and family members dotted around the country.With the option to personalise the back with a message, you can choose to wish them a happy Easter or to send heartfelt wishes. And whichever words you choose, once the chocolate has been wolfed down, your special someone will have a one-of-a-kind token that they can cherish for years to come.What Can I Put On My Chocolate Bar?Personalise it with a name in up to 22 characters and a message in up to 50 characters. Use our innovative preview button to see how your gift will look when personalised. Simply type in your chosen words and press the Preview button.Size: 100gIngredients: Sugar, cocoa butter, whole milk powder, cocoa liquor, lactose, whey powder, emulsifier: soya lecithin (cocoa solids 32% minimum, milk solids 14% minimum)Please note: This chocolate bar contains milk soya and may contain nuts. Store in a dry place and keep away from heat and direct sunlight.
Supplied by Getting Personal (Opens in new tab/window)
Bunny & Chick Easter Treat Bags (Per 4 packs)
Add treats for a perfect Easter gift! Bunny and chick paper bags - ideal for Easter egg hunts. Each bag has egg-shaped cellophane windows. Size 16cm x 8.5cm.
Free postage (over £75.00)
Supplied by Baker Ross (Opens in new tab/window)
Our Easter gifts have all been researched and carefully selected by boys and girls, and men and women, of various ages, so you can be sure that the gift ideas we present will be things that they are likely to really appreciate. Of course, not every man, woman, and child have exactly the same tastes, so we asked our Gift Gofers to select a variety of gifts of different types and at various prices. If you don't see a present on this page you think your friend or relative would love to receive as an Easter gift, use our Search option to tell us more about them: their hobbies and interests, and the approximate amount you want to spend, and the Gift Gofers will scamper off and find some more great suggestions.