Serving in the Armed Forces Overseas - Hand-picked Gift Ideas
Our top pick would be a memory stick or card. Record your messages and photos from home, or their favourite TV programs. 
Men's Tie Travel Box
Dark brown bonded leather tie box with selection of bath and beauty products for him included. Personalise with initials. Set includes: tie box, 250ml hair and body wash, 250ml moisturiser, 250ml muscle soak, 250ml muscle rescue, high quality neck tie and a matching handkerchief.
Supplied by Gift Ideas For Two (Opens in new tab/window)
Damn Handsome Beard Grooming Kit
This wonderful beard kit contains all the essential products needed to help soften, moisturise and style your moustache and beard. The perfect gift for any stylish bearded fellow, with two designs to choose from you can give it to that 'damn handsome' man in your life or the 'daddy of all beards'. Either kit contains all that's needed to manage and maintain a fine looking beard, be that the rugged scruff of a weekend of no shaving or the hunter-gathering full-grown winter's beard. Our kit can be used by all, and all skin types. Kept within a perfect pocket-sized gold tin - it looks great on the shelf but is also a super size for travelling, so his whiskers can always look great, wherever he is, at home or on the go. What does it contain? A quick four step beard styling guide, to help understand how to use each product and look damn handsome. Beard Oil - 10ml - The all natural age-old formulation, rich in vitamins and minerals, helps to moisturise and cleanse the skin beneath the hair, soothing irritation, whilst conditioning the follicles. With a light masculine spiced scent of the forest and soil, it can be used as a beard oil or as an oil based cologne. Apply it sparingly, just a few drops go along way, warm in the palm and rub in to the bearded area and skin beneath. Voila. Moustache Wax - 15ml - this all natural formula is perfect for tidying and adding a touch of flare to your moustache. Scratch some off with the back of your nail, warm between your fingers and ap ...
Supplied by Prezzybox (Opens in new tab/window)
MENS CUFFLINKS in USB Memory Stick Design
These novelty cuff links are ideal for men of all ages and perfect for any occasion. These unique men's cufflinks are presented in a gift box, making them an excellent gift for businessmen, executives and all men who like to dress in style.   Features and benefits; Presented in a Gift Box Various Different Designs Available An Ideal Gift For All Occasions Working USB Memory Stick 1GB on Each Cufflink
Free postage (over £50.00)
Supplied by Cuckoo Land (Opens in new tab/window)
Beard Grooming Kit
No matter how much you try and deny it, beards are well and truly in fashion at the moment, so stop going to war against your son's or boyfriend's furry friend and treat them to a Beard Grooming Kit instead to ensure things don't get too messy. Comprising of a handy comb and pair of trimming scissors, the Beard Grooming Kit lives inside a leather pouch, because if there's anything men like more than their facial hair it is their leather accessories. Beards will grow on you we promise.
Supplied by Geniegadgets.com (Opens in new tab/window)
Fox Tossing, Octopus Wrestling and Other Forgotten Sports Bo
Fox Tossing, Octopus Wrestling and Other Forgotten Sports Book - Updated Paperback EditionDid you know, 17th century German nobles engaged in a sport called fox tossing? We didn't until we came across this rather interesting book!Full of hilarious and downright wacky trivia about some of the world's most bizarre and dangerous sports, this book is bound to provide many a giggle at its craziness and stupidity. Despite how funny they may be, you wouldn't catch us attempting eel-pulling or waterfall-riding, we'll stick to a classic game of footy, thanks!This updated paperback edition is perfect for swotting up on your buffalo jumping and ski ballet on the go!Product details:Paperback: 272 pagesPublisher: Simon & Schuster UK (2 Jun. 2016)Language: EnglishISBN-10: 1471148998ISBN-13: 978-1471148996Product Dimensions: 19.8 x 2.1 x 13.2 cm
Supplied by The Present Finder (Opens in new tab/window)
MEN'S SOCIETY OVERINDULGENCE GROOMING KIT
The perfect pick-you-up survival kit for the morning after the night before, this Overindulgence Grooming Kit from Men's Society has everything needed to spruce yourself up and shake off that fuzzy head! After freshening up with the handy toothbrush and toothpaste, start the day with a few drops of the Restorative Bath Oil in your morning bath; soothe those bags under the eyes with Bright Eyes Eye Cream, then if things get too much, take an afternoon nap using the sleep mask provided - and tell yourself you will never, ever, ever do that again... until next time! Features and Benefits: Men's Survival Kit Packed in a handy tin Great gift idea for Men Tin size: 140cm (L) 10cm (W) 3.5 cm (D) What's in the Tin: Sleep Mask Restoration Bath Oil Bright Eyes Eye Cream Toothbrush and toothpaste Ingredients: Restorative Bath Oil: Grapeseed Oil, Lavender, Sandalwood, Cedarwood, Polyorbate 80, Vitamin E (50ml) Bright eyes Eye Cream: Aqua, Cetearyl Ethylhexanoate, Stearic Acid, Prunus Amygdalus, Glyceryl Stearate, Propylene Glycol, Cera Aslba, Cetyl Acetate, Anthemis Nobilis, Lavandula Angustifolia, Panax Ginseng, Symohytum Officinale, Sodium PCA, Alcohol Denat., Tocopheryl Acetate, Triethanolamine, Disodium EDTA, Soodium Borate, Ethylhexylglycerin, Methylisothiazolinone, Citrus Aurantifolia, Fragrance Coconut. Marvis Toothpaste: glycerin, aluminium hydroxide, water silica, aroma (flavour), cellutose gum, titanium dioxide, sodium lauryl ...
Free postage (over £50.00)
Supplied by Cuckoo Land (Opens in new tab/window)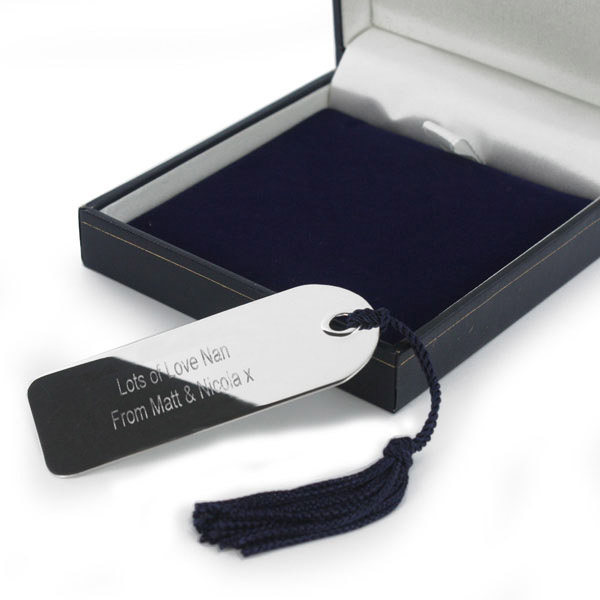 Engraved Silver Plated Bookmark
Our silver plated bookmark makes a great gift idea for anyone who loves to read and can be personalised with a special engraved message. It's a lovely gift idea for the Grandparents or Mum and Dad to keep their page when story time with the children is over.
Gift wrap service Free postage (over £30.00)
Supplied by The Gift Experience (Opens in new tab/window)
Our top pick would be a memory stick or card. Record your messages and photos from home, or their favourite TV programs. 
More Ways to Help Soldiers Serving in theatre
SOS (Support Our Soldiers)
Support Our Soldiers is a registered charity which provides encouragement and support to British soldiers serving overseas. They provide all kinds of support to our boys and girls out there in the theatre of war, including their annual Christmas Parcels appeal. You can make a donation online to help in their very worthwhile work on the Support Our Soldiers Website.
e-Bluey
Remember those blue airmail letters that we used to use to write to our friends and family overseas? In the Forces they refer to those as blueys. On the e-Bluey website you can send a Bluey electronically: write your letter online and it will be printed out and delivered to the soldier (or sailor or airman ...) in the form of an actual letter. Find out more on the e-Bluey website.
Help for Heroes
Help for Heroes raises money to support members of the Armed Forces who have been wounded in the service of their country.Find out more about this excellent charity on the Help for Heroes website.
Sending Parcels to BFPO Addresses
Here is a list of items which are prohibited in packages sent to BFPO addresses:
Class 1: Explosives
Class 2: Gases compressed, liquefied or dissolved under pressure 
Class 3: Flammable liquids
Class 4: Flammable solids
Class 5: Oxidising Substances and Organic Peroxides
Class 6: Toxic and Infectious Substances
Class 7: Radioactive Material
Class 8: Corrosives
Class 9: Miscellaneous Dangerous Goods 
Controlled Drugs
Arms and Ammunition
Counterfeit Currency and Postage Stamps
Indecent or Obscene Articles
Lottery Tickets
You can find more information about sending packages to BFPO addresses on the official BFPO website.