Serving in the Armed Forces Overseas - Hand-picked Gift Ideas
Our top pick would be a memory stick or card. Record your messages and photos from home, or their favourite TV programs.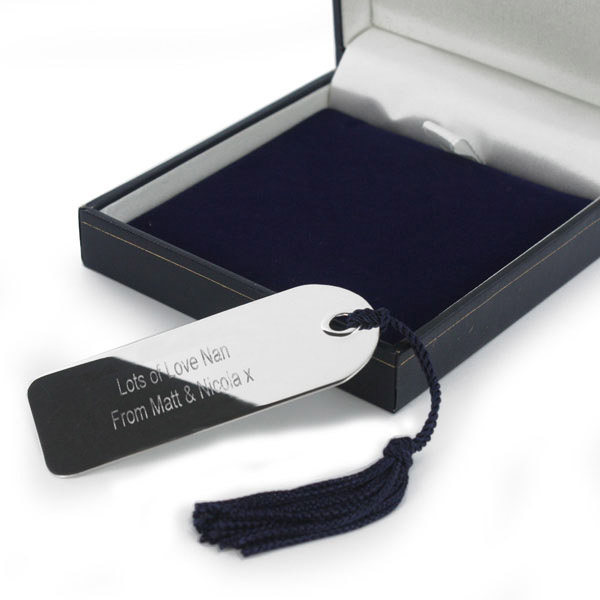 Engraved Silver Plated Bookmark - 34.99
Engraved Silver Plated Bookmark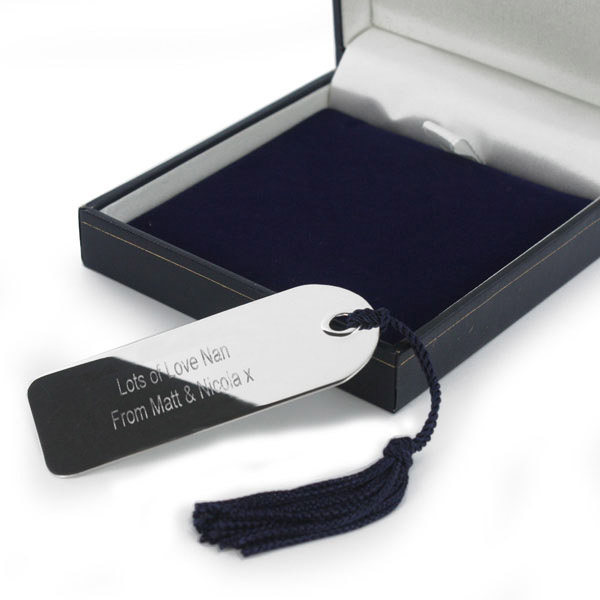 Our silver plated bookmark makes a great gift idea for anyone who loves to read and can be personalised with a special engraved message. It's a lovely gift idea for the Grandparents or Mum and Dad to keep their page when story time with the children is over.
Gift wrap service Free postage (over £30.00)

£34.99

Men's Society Overindulgence Grooming Kit - 9.00
Men's Society Overindulgence Grooming Kit
The perfect pick-you-up survival kit for the morning after the night before, this Overindulgence Grooming Kit from Men\'s Society has everything needed to spruce yourself up and shake off that fuzzy head! After freshening up with the handy toothbrush and toothpaste, start the day with a few drops of the Restorative Bath Oil in your morning bath; soothe those bags under the eyes with Bright Eyes Eye Cream, then if things get too much, take an afternoon nap using the sleep mask provided - and tell yourself you will never, ever, ever do that again... until next time! Features and Benefits: Men\'s Survival Kit Packed in a handy tin Great gift idea for Men Tin size: 140cm (L) 10cm (W) 3.5 cm (D) What\'s in the Tin: Sleep Mask Restoration Bath Oil Bright Eyes Eye Cream Toothbrush and toothpaste Ingredients: Restorative Bath Oil: Grapeseed Oil, Lavender, Sandalwood, Cedarwood, Polyorbate 80, Vitamin E (50ml) Bright eyes Eye Cream: Aqua, Cetearyl Ethylhexanoate, Stearic Acid, Prunus Amygdalus, Glyceryl Stearate, Propylene Glycol, Cera Aslba, Cetyl Acetate, Anthemis Nobilis, Lavandula Angustifolia, Panax Ginseng, Symohytum Officinale, Sodium PCA, Alcohol Denat., Tocopheryl Acetate, Triethanolamine, Disodium EDTA, Soodium Borate, Ethylhexylglycerin, Methylisothiazolinone, Citrus Aurantifolia, Fragrance Coconut. Marvis Toothpaste: glycerin, aluminium hydroxide, water silica, aroma (flavour), cellutose gum, titanium dioxide, sodium laur ...
Free postage (over £50.00)

£9.00

Our top pick would be a memory stick or card. Record your messages and photos from home, or their favourite TV programs. 
More Ways to Help Soldiers Serving in theatre
SOS (Support Our Soldiers)
Support Our Soldiers is a registered charity which provides encouragement and support to British soldiers serving overseas. They provide all kinds of support to our boys and girls out there in the theatre of war, including their annual Christmas Parcels appeal. You can make a donation online to help in their very worthwhile work on the Support Our Soldiers Website.
e-Bluey
Remember those blue airmail letters that we used to use to write to our friends and family overseas? In the Forces they refer to those as blueys. On the e-Bluey website you can send a Bluey electronically: write your letter online and it will be printed out and delivered to the soldier (or sailor or airman ...) in the form of an actual letter. Find out more on the e-Bluey website.
Help for Heroes
Help for Heroes raises money to support members of the Armed Forces who have been wounded in the service of their country.Find out more about this excellent charity on the Help for Heroes website.
Sending Parcels to BFPO Addresses
Here is a list of items which are prohibited in packages sent to BFPO addresses:
Class 1: Explosives
Class 2: Gases compressed, liquefied or dissolved under pressure 
Class 3: Flammable liquids
Class 4: Flammable solids
Class 5: Oxidising Substances and Organic Peroxides
Class 6: Toxic and Infectious Substances
Class 7: Radioactive Material
Class 8: Corrosives
Class 9: Miscellaneous Dangerous Goods 
Controlled Drugs
Arms and Ammunition
Counterfeit Currency and Postage Stamps
Indecent or Obscene Articles
Lottery Tickets
You can find more information about sending packages to BFPO addresses on the official BFPO website.