Presents for Budding Inventors ~ engineers
I am The Inventor Art Print
Fine art print printed with sunlight resistant inks on cotton mix archival art paper using state of the art digital giclée printers. All good things as they mean the print will last a lifetime and remain as vibrant as the day it came off the press. • Available in A4 to A1 sizes • Trimmed with a 2cm border for framing • Available framed in white, black and oak wooden frames
Supplied by Fy (Opens in new tab/window)
Star Wars Disney R2-D2 Droid Inventor Kit 30Pc Robot w/App Voted Toy of the Year
Little Bits Star Wars Disney R2-D2 Droid Inventor Kit! 30Pc Robot w Programmable App! Boys, Girls, Toys! AWARD WINNING TOY OF THE YEAR! These are very HOT Items this Christmas Season! They are selling fast! HURRY AND "BUY IT NOW" BEFORE THE...
Supplied by Bonanza (Global) (Opens in new tab/window)
The Last Jedi Littlebits Disney Star Wars R2-D2 Droid Inventor Kit Robot In Hand
The littleBits Droid Inventor Kit is a toolkit for creating Droids from the Star Wars universe (and customize their own) using electronic building blocks. The building blocks snap together with magnets, allowing kids to get creative with electr...
Supplied by Bonanza (Global) (Opens in new tab/window)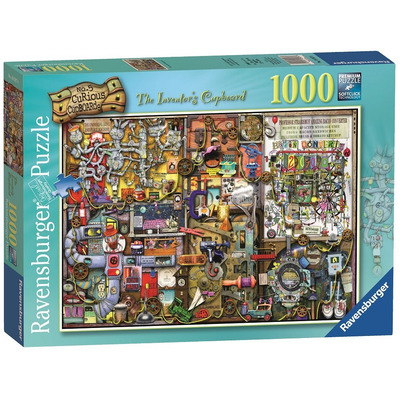 Ravensburger Colin Thompson, The Inventor's Cupboard, 1000 Piece Jigsaw
This the fifth in a series of Curious Cupboards jigsaws designed by Colin Thompson. What do eccentric inventors keep in their cupboards? Delve into this puzzle to find out! This cupboard must be enormous, because it contains all sorts of sizeable machines and gizmos. Amongst those lurking inside are a bacon converter, a bed that explains the brief history of time, a solar-powered sun-bed, and the universal love and peace machine. Add to this a clockwork car, a steam locomotive, the perpetual motion machine, a funky, trainer-wearing robot, several timepieces and a telescope. You'll even find some curious creatures and little glimpses into other worlds. Put your worldly worries to one side and investigate the contents of the Inventor's Cupboard … fascination, amusement and entertainment await you! Includes in-box A4 colour leaflet showing puzzle image for reference, information about the image and artist's biography.
Supplied by Duncans Toys (Opens in new tab/window)