Hand Selected Gift Ideas for Footballers and Fans
What do you get as a Christmas or birthday present for someone (man or woman!) who loves soccer? Unless you're a fan of the game yourself, you probably have no idea what they would really appreciate. So we asked a few football fans and footballers to tell us what they would love to receive. We've shown the top choices on this page

MY FANTASY FOOTBALL TEAM IS BETTER THAN YOURS. T-shirt - 22.05
MY FANTASY FOOTBALL TEAM IS BETTER THAN YOURS. T-shirt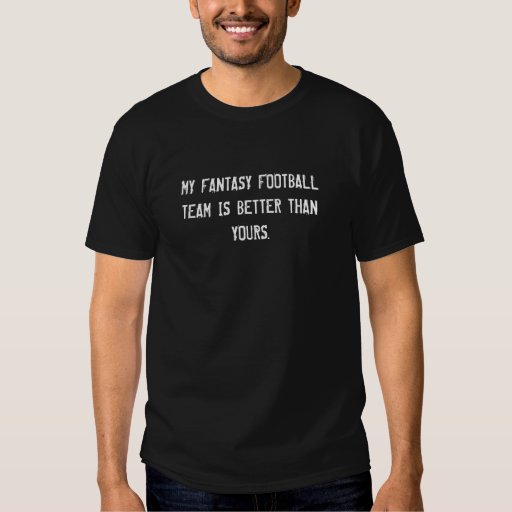 This customizable MY FANTASY FOOTBALL TEAM IS BETTER THAN YOURS. T-Shirt is designed on the tshirt and would interest those who like fantasy football and football stuff.
Personalised Pint Glass - Best Footballer - 9.99
Personalised Pint Glass - Best Footballer
Free postage

£9.99 From Getting Personal

If they love to watch the game every weekend with a cold pint (or two!) in hand, then we've got just the gift! Our personalised pint glass has a football icon engraved inside a shield and is finished with two plaque-like banners, just like a football trophy! You can personalise the glass with a name and message to be engraved in a modern block font, so everyone will know who it belongs to. The perfect accompaniment to their Saturday afternoon viewing and a great birthday or Father's Day gift for a football fan! What Can I Put On My Pint Glass?Personalise it with a name, using up to 18 characters and a message to appear over two lines, using up to 30 characters per line. Material: GlassCapacity: 568ml (20oz)
What do you get as a Christmas or birthday present for someone (man or woman!) who loves soccer? Unless you're a fan of the game yourself, you probably have no idea what they would really appreciate. So we asked a few football fans and footballers to tell us what they would love to receive. We've shown the top choices on this page
Great gift ideas for football fans
We've got the top branded products in our database of presents for soccer players!